Are you tired of constantly being told that you're not "girly" enough? Do you prefer a less-is-more approach to beauty and style? If so, you're not alone. Being true and honest to oneself should be everyone's motto, and it's okay to embrace your tomboy style.
Trying to be someone you're not is never a good idea, as it won't make you feel confident or genuine. While some may assume that tomboys have no interest in fashion, that's not the case. It's simply a statement of individuality that's all its own.
Whether you love jeans, t-shirts, hoodies, or something in between, there are plenty of ways to have fun with your tomboy style. So, mix it up a bit and try something new, just for a change. Don't be afraid to express your true self, even if it goes against traditional gender norms. After all, confidence is the most beautiful accessory you can wear.
If you're looking to boost your style profile and stay true to your personality, here are some ideas to get you started. Mixing and matching separates can create endless outfit possibilities.
Tomboy Style: Versatile and Cool
Tomboy fashion has never been more popular on the streets than it is now. The coolness of this style is inherent, and it's not just comfortable but also functional and versatile.
1. Vintage
My personal favorite tomboy pieces are vintage, due to their unique prints, styles, and tailoring. While trendy garments may come and go, classic silhouettes will always stand the test of time.
Pairing high fashion pieces with versatile garments can instantly elevate a rather plain wardrobe.
2. Classic Menswear
When dressing up for formal events or work, opt for polished outfits that fit your body well instead of being too baggy and slouchy. Black suits and white button-down shirts are perfect examples of polished tomboy outfits, as they are inspired by classic menswear. Adding a simple scarf, narrow belt, or other interesting accessory can add some flair.
Shop for Similar items on Amazon
3. T-shirts
Let's talk about the ultimate wardrobe essential – t-shirts! They're comfy, they're casual, and they're perfect for lounging around the house. But let's face it, some of them have got to go. You know the ones – stretched out, stained, or just plain old holey. When you're shopping for t-shirts, try to look for ones that are fitted and fun, with unique prints or dye-washes that give them a fresh look.
4. Oversized T-Shirts
Oversized t-shirts are another tomboy classic. They're comfy, relaxed, and can show off your personal style. You can choose a solid color or a graphic print, depending on your mood. Here's an example of an oversized tee with a bold print:
5. Tank Tops
To create a classic and everyday look, keep it simple by wearing distressed, loose-fitting jeans and a delicate, feminine tank top. This combination blends both styles perfectly and is a great choice for any occasion.
6. Tomboy Chic with Button-up Shirts
And if you're a fan of button-up shirts, don't worry – you can still rock the tomboy look while staying stylish. Short or mid-length sleeve dress shirts are a great way to mix it up, especially if you can find some interesting prints to add to your wardrobe. If you're feeling adventurous, raid your dad's closet (or any other male figure in your life) and see what hidden gems you can find. A button-up shirt over a tank top, or even a classic vest, can add a touch of dress-up to an otherwise casual outfit.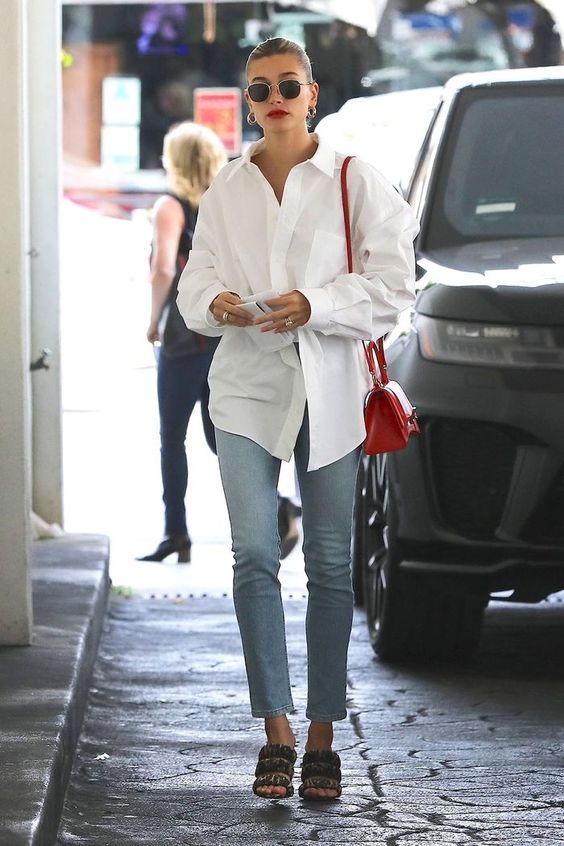 7. Jeans: A Timeless Staple for Any Tomboy Chic Wardrobe
Jeans are the perfect go-to for any casual occasion. While they might seem basic, they can be dressed up or down depending on your mood. If you're looking to add some flair to your wardrobe, try investing in colored jeans. A pair of comfortable red jeans can add just the right amount of pop to any outfit. If you prefer slacks, don't be afraid to experiment with different cuts and shades. A well-fitting pair of black jeans or slacks is a great staple for any occasion.
Menswear Inspired Boyfriend Jeans
Boyfriend jeans are a staple in the tomboy fashion scene. They're comfortable, loose-fitting, and can be dressed up or down. Pair them with a graphic tee or a classic button-up shirt for a cool and casual look. Here's an example of how to rock boyfriend jeans: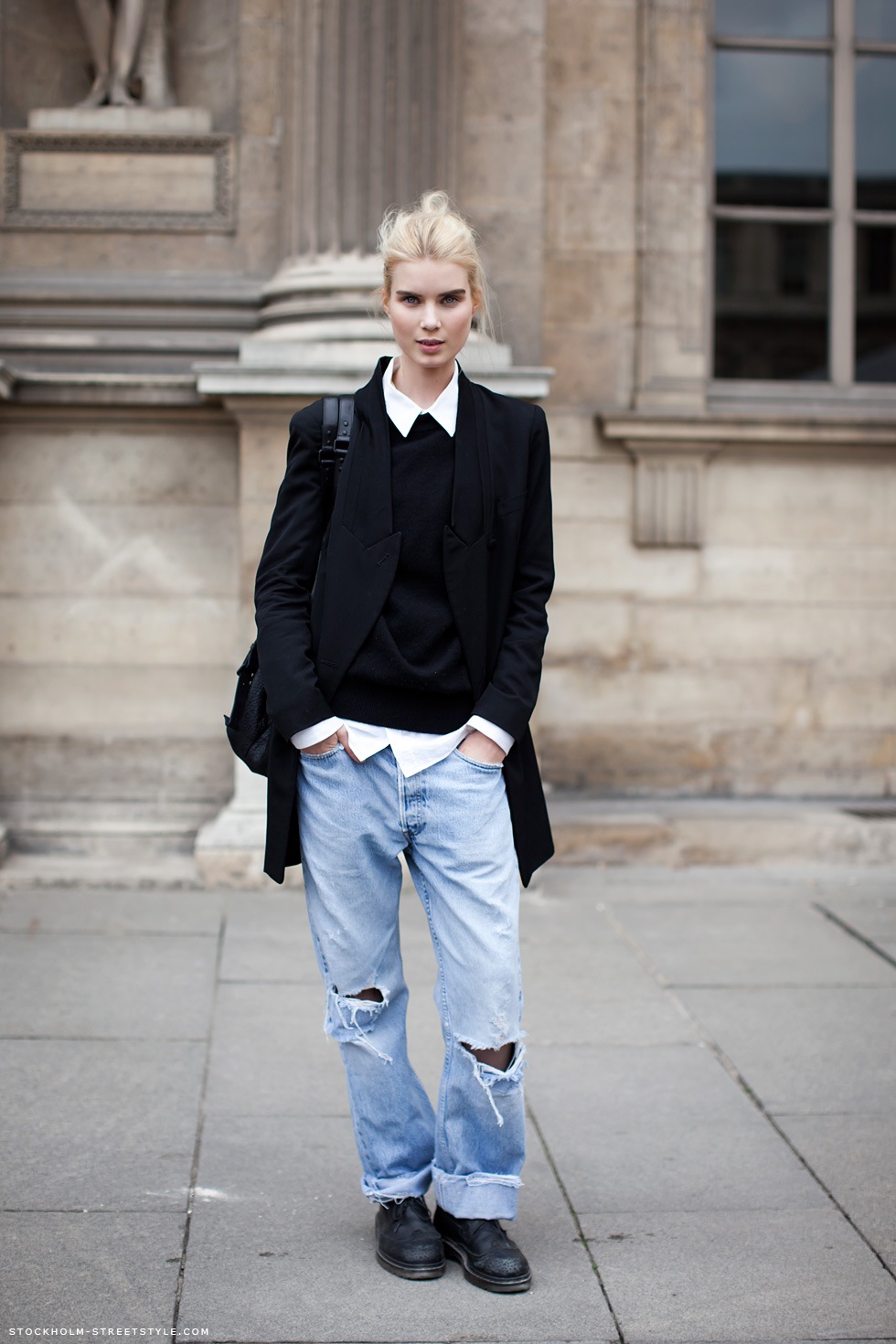 Overalls or Dungarees
If you're feeling adventurous, consider overalls, cut-off shorts, or boy shorts. Overalls are a staple in any tomboy's wardrobe, providing a comfortable yet stylish option for casual wear.
For a classic tomboy look, pair denim overalls with a white t-shirt and sneakers or combat boots.
Layering a flannel shirt or a hoodie underneath overalls can add warmth and dimension to the outfit while maintaining its tomboy charm.
8. Skorts, Dresses, and Skirts
Let's talk about something that some people might be hesitant to embrace – dresses and skirts! Personally, I absolutely love them. There's just something so freeing about not having to worry about pants or shorts. And let's be real, if men could wear them without being judged, they totally would! But I get it, skirts and dresses aren't for everyone. That's why I want to introduce you to a great alternative – the skort!
Now I know what you might be thinking, "Aren't those just for kids?" Absolutely not! Skorts can be extremely functional and cute, making them a perfect addition to any wardrobe. Plus, they're designed to be comfortable, so you don't have to worry about feeling constricted or uncomfortable throughout the day. I personally have several skorts in different shades, all of which I scored on the same day at my local thrift store. Trust me, once you try a skort, you'll wonder why you didn't give them a chance sooner!
9. Versatile Jacket Choices for a Chic and Functional Wardrobe
If you're looking for a laid-back vibe, consider classic men's styles like a distressed denim jacket or a bomber jacket. And if you want to dress things up a bit, a tailored jacket or an oversized blazer can add some sophistication while flattering your figure. Whatever style you choose, make sure it's comfortable and versatile enough to wear with multiple outfits.
10. Sweat Pants
And let's not forget about the sweat pants- they're versatile and chic, making them a great addition to any tomboy chic wardrobe. The key is to find your favorite cut and make sure it fits you well.
Shoes for Tomboy Chic Style
Shoes can make or break an outfit, and for tomboys, they need to be comfortable and practical while still looking stylish.
Sneakers
Sneakers are always a good choice, and a classic white pair is a great staple to have in your closet. Pair them with jeans, skirts, or dresses for an effortlessly cool look. High-top sneakers add a little extra edge to any outfit, while slip-on sneakers are perfect for those who want to be able to quickly slip on and go.
Combat Boots
If sneakers aren't your thing, consider investing in a good pair of ankle boots or combat boots. They add a touch of ruggedness to any outfit and can be dressed up or down depending on the occasion. Chelsea boots are another great option and can be paired with jeans or dresses.
Sandals or Slides
For warmer weather, consider sandals or slides. Birkenstocks are a classic choice, and their comfort and versatility make them perfect for tomboys. Slides with a thick sole add a little extra height while still being comfortable to wear all day. And for those who want a little more coverage, a good pair of oxfords or loafers can be paired with pants or dresses for a polished, yet tomboyish look.
No matter what shoe you choose, make sure it reflects your personal style and can keep up with your busy lifestyle. Comfort and style can go hand in hand, and with the right shoes, you can conquer the world in style.
Functional yet Stylish: Bags for the Tomboy Chic Look
When you're out and about, you need a place to carry your essentials like your ID and keys. Even for tomboy chic style, a great bag can make all the difference. Here are some options to consider:
Crossbody Bag
A crossbody bag is perfect for those who want to be hands-free. It's a versatile option that works well with any outfit, whether you're dressed up or down. Look for one in a neutral color like black or brown, or choose a bold pop of color to make a statement.
Fanny Pack
Yes, fanny packs are back! And they're not just for tourists anymore. Fanny packs are a great option for those who want a small and practical bag. You can wear it around your waist or crossbody for a different look. Opt for a classic black one or choose a fun pattern to add some personality.
Casual Clutch
A casual clutch is a great way to elevate a simple outfit. Look for one in a neutral color or choose one with some texture or embellishments to make a statement. It's a perfect option for a night out or a fancy brunch with friends.
Small Tote
A small tote is a great way to carry your essentials while still looking stylish. Look for one in a classic shape and neutral color to make it versatile. It's perfect for those who want a little more space than a clutch or a crossbody bag.
Slim Wallet
If you prefer to keep things minimal, a slim wallet is all you need. It's perfect for those who want to travel light and only carry the essentials. Look for one in a neutral color or choose a bold print to show off your personality.
Subtle Makeup Tips for a Tomboy Chic Look
Don't be so quick to dismiss makeup. If you take good care of your skin, why not enhance it with a touch of color? Start by moisturizing your skin with lotion and some clear balm for your lips. Then take an honest look at yourself in the mirror: do you look tired or washed out? While you may not feel like wearing makeup every day, adding just a little bit of color can make a big difference.
Personally, I believe makeup should enhance your natural features, not distract from them. The goal is for people to notice you, not the makeup you're wearing. So, consider adding just a touch of color to your routine. A little bit of powder can help reduce any shine, while eyeliner can help define your eyes. Adding a light coat of mascara can make your eyes pop. And if you want a subtle glow, try using earthy-toned blush or bronzer. The best part about makeup is that you can experiment with it to see what works best for you. Give it a try!
Simple Jewelry Pieces to Complement Your Tomboy Chic Look
When it comes to jewelry, I prefer wearable pieces that can keep up with my active lifestyle. I have a favorite diamond and emerald that I wear every day, and I reserve special, fancier pieces for formal events.
Adding a simple necklace, earrings, bracelet, rings, or even an anklet can be a subtle yet stylish touch to your tomboy chic look. Keeping it simple with only one or two pieces is a great way to maintain a casual vibe while still showing off your personal style. Consider choosing handmade, vintage, or one-of-a-kind pieces to add a unique touch to your outfit.
The beauty of jewelry lies in its endless variety. Stones like turquoise, agate, moonstone, quartz, and sterling silver can add a touch of natural beauty to your look. These distinctive designs and natural stones can update any outfit and reflect the beauty and passion of the world around us.
Affordable Fashion for the Tomboy
You don't need to empty your pockets to look stylish. In fact, some of the best fashion finds are hidden in your mom's or dad's closet. Take a cue from them and start hunting for vintage pieces that are both fashionable and affordable.
You don't need to break the bank to create your signature tomboy style. Instead, head over to the clearance section or thrift stores where you can score amazing deals on name-brand items that someone else paid way too much for. This way, you can create an impressive wardrobe full of versatile pieces that you can mix and match.
Don't let anyone tell you how to dress, whether it's your girly friends who insist you need to fix yourself up or the fashion industry that bombards you with unrealistic beauty standards. As a tomboy, you have your unique style that reflects your taste, personality, and attitude. So, don't be afraid to experiment with new looks and styles that challenge the status quo.
Remember, fashion is not just about looking good but also feeling comfortable and confident in your own skin. By embracing your tomboy side and creating a signature style, you can unleash your inner rebel and inspire others to do the same. So, go ahead, try new things, and discover the multidimensional human being that you are.
Feel free to share your own casual style and how you elevate it to make it more polished in the comments below. Do you have any favorite pieces that you like to mix and match for a chic yet effortless look? Let's discuss and share our fashion tips!